We want you to survive your eliminator pool this NFL season so we're giving our free survivor pool strategy all season. Our picks are based upon our data driven NFL predictions and power rankings.
We're 9-2 surviving the season with a win last Sunday as the Lions defeated the Jaguars to survive.
Survivor Pool Pick Strategy:
We start with our list of 16 predicted winners:
Lions over Vikings
Cowboys over Redskins
Steelers over Colts
Texans over Chargers
Titans over Bears
Bills over Jaguars
Ravens over Bengals
Falcons over Cardinals
Dolphins over 49ers
Saints over Rams
Giants over Browns
Seahawks over Bucs
Raiders over Panthers
Broncos over Chiefs
Patriots over Jets
Eagles over Packers
Now there are four steps to easily cut down your potential pick for your NFL survivor pool.
Eliminate Toss-Up Winners
First we eliminate toss-up games.  That means we're cutting the 1 point winners out of the list.  This knocks out the Seahawks and Texans.  We have 14 teams remaining to consider in week 12.
Eliminate Road Winners
Next we eliminate road teams.  I don't like taking road teams to win in the NFL at all.  Just too risky when you need a win, go with a home team.
Eliminating predicted road winners, the Steelers, Patriots, Titans and Giants are out of contention.  We have 10 teams left.
Eliminate Low Ranking Winners
Next, I look for team that aren't in our 20 of the power rankings.  This eliminates the Saints, ranked 23rd, from contention.  Nine teams remain.
Eliminate Winners Playing Good Teams
Then, I look for our predicted winners that are playing teams ranked in the top 16 and take them out of consideration.  This eliminates the Broncos against the sixth ranked Chiefs and Cowboys against the 10th ranked Redskins are out.  Seven teams remain.
Eliminate the Teams We've Already Picked in 2016
2016 Survivor Pick Results
Week 1 – Texans (Win)
Week 2 – Panthers (Win)
Week 3 – Packers (Win)
Week 4 – Chargers (Loss)
Week 5 – Steelers (Win)
Week 6 – Bills (Win)
Week 7 – Chiefs (Win)
Week 8 – Broncos (Win)
Week 9 – Vikings (Loss)
Week 10 – Cardinals (Win)
Week 11 – Lions (Win)
Of the seven teams still eligible, we have used the Bills and Lions earlier this season so they're out.  We have five potential NFL survivor pool picks in week 12, the Ravens, Falcons, Dolphins, Raiders and Eagles.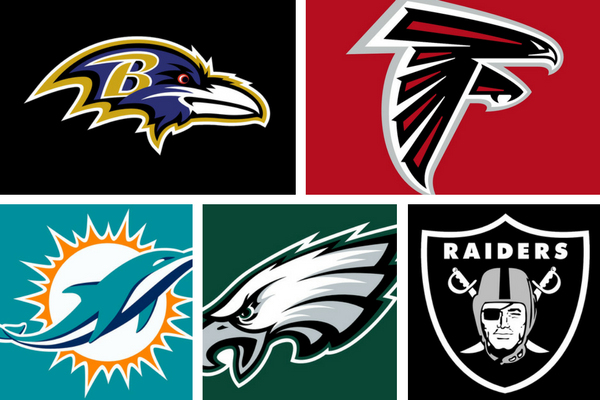 Final  Survivor Pool Pick Candidates
5 – Raiders (against Panthers) – The Raiders won Monday night in Mexico City.  The conditions of being at such elevation and in heavy pollution, can cause great fatigue.  It might impact the Raiders' performance this Sunday as they're trying to recover.
4 – Eagles (against Packers) – The Eagles are trying to stay in the playoff race while the Packers are crumbling.  Do the Packers rise up on Monday night to upset the Eagles? Never count Aaron Rodgers out.
3 – Falcons (against Cardinals) – The Cardinals have fallen this season.  They can't protect Carson Palmer and that's disrupted the offense mightily.  The Falcons will try to jump out to an early lead to let the pass rush attack.
2 – Ravens (against Bengals) – This is more of a play against the Bengals.  Without AJ Green, the offense doesn't have much spark.  This is a divisional game which means it be close.
1 – Dolphins (against 49ers) – The Dolphins are hot having won five straight and welcome the lowly Niners to town this week.  Expect the 'Phins to keep the momentum going.  Take the Dolphins to survive NFL week 12.