Our week 1 pick was the Texans against the Bears.  Houston won 23-14!  Stayin' alive to week 2!  Can we make it all season?
We want you to survive your eliminator pool this NFL season so we're giving our free survivor pool strategy all season. Our picks are based upon our data driven NFL predictions and power rankings.
NFL Survivor Pool Pick Strategy for Week 2:
We start with our list of 16 predicted winners:
Bills (vs. Jets)
Lions (vs. Titans)
Chiefs (at Texans)
Patriots (vs. Dolphins)
Ravens (at Browns)
Steelers (vs. Bengals)
Redskins (vs. Cowboys)
Giants (vs. Saints)
Panthers (vs. 49ers)
Cardinals (vs. Bucs)
Seahawks (at Rams)
Broncos (vs. Colts)
Raiders (vs. Falcons)
Chargers (vs. Jaguars)
Vikings (vs. Packers)
Bears (vs. Eagles)
Now there are four steps to easily cut down your potential pick for your NFL survivor pool.
Eliminate Toss-Up Winners
First we eliminate toss-up games.  That means we're cutting the 1 point winners out of the list.  In week 2, this eliminates several teams.  Gone are the Bills, Chiefs, Ravens, Steelers and Raiders.  We're down to 11.
Eliminate Road Winners
Next we eliminate road teams.  I don't like taking road teams to win in the NFL at all.  Just too risky when you need a win, go with a home team.
Eliminating predicted road winners at this stage just eliminates one team in week 2, the Seahawks.  Ten potential eliminator picks remain.
Eliminate Low Ranking Winners
Next, I look for team that aren't in our 20 of the power rankings.  This elimates the Redskins (21), Bears (24) and Chargers (28) and leaves us with seven teams remaining.
Eliminate Winners Playing Good Teams
Then, I look for our predicted winners that are playing teams ranked in the top 16 and take them out of consideration.  This eliminates the Giants, Cardinals and Vikings.  We're down to our final four.
Final  Survivor Pool Pick Candidates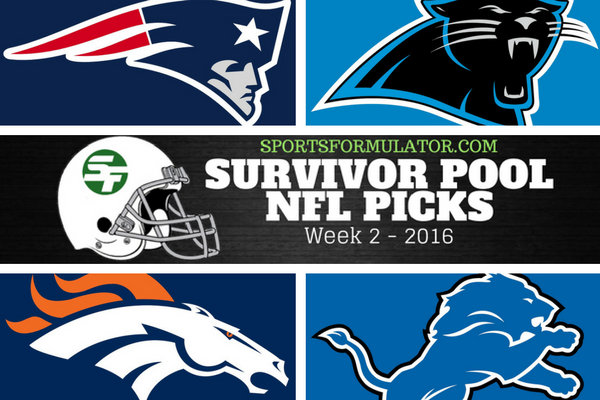 Survivor Pool Pick for NFL Week 2:
4 –  Lions (vs. Titans) – The Titans struggled last week while the Lions surprised.  We've still got the Lions ranked 17 in this week's power rankings so they're out of the running compared with the other three strong candidates.
3 – Patriots (vs. Dolphins) – The Patriots won on the road against the second best team in the NFC from last season…without Brady or Gronk.  You simply can't doubt what the hoodie is capable of doing as head coach.  This is a divisional game though so it could be closer than expected.
2 – Broncos (vs. Colts) –  The Colts might want to just let Andrew Luck stay in Indy.  I don't see the Colts having any shot against the Denver pass rush.  Luck is gonna get knocked around.
1 – Panthers (vs. 49ers) –  The Panthers should be very motivated and this could be a blowout.  They've waited 10 days to get back on the field after losing to the Broncos by a point in the opener.  The Niners travel across the country on a short week.  Take the Panthers and survive to week 3.
Get more winning information for NFL Week 2:
Play our Free NFL Pick 'Em contests picking games Against the Spread or game winners.