by Matt Fischer
Week 4 Review
College Football Week 4 is over and had some interesting storylines especially in the SEC.
LSU Won…No It Didn't
An odd ending in Auburn as the hometown Tigers edged LSU 18-13 after LSU scored a touchdown on the final game of the game…only to have it overturned on replay.
A penalty was called with 1 second remaining.  LSU then lined up and snapped the ball without a whistle signaling time had run out on the game.  Only after LSU caught the winning touchdown, did replay intervene to overturn the call on the field.  Horrible ending and one that could end up costing a coach his job.
Mizzou Wins in 50 Minutes
I witnessed a disgrace to college football Saturday.  I was in the stands at Faurot Field to watch Mizzou make school  history beating Delaware State 79-0.   Both teams agreed to play 10 minute quarters at half-time.
That's absolutely ridiculous to cut a game short.  This isn't the first time it's happened, but is what's wrong with college football.  FBS teams scheduling poor FCS teams that don't even want to play 60 minutes knowing they don't have a chance to win.  Why even play the rest of the game?
I commented at halftime when it was announced there would only be 10 minute quarters, that the game should be called since Missouri was winning 58-0.
Missouri didn't even play great.  Delaware State was just that bad.  They were grossly overmatched.
I'll have more on this in the coming week with a plan for scheduling for Power 5 teams.
Vandy Tops the Hilltoppers
Western Kentucky was over a touchdown favorite against Vanderbilt on Saturday.  Many saw Vandy getting led to the slaughter but they pulled off a big road win for Derek Mason.  Vandy won 31-30 in OT and pulled Derek Mason from the hot seat as a loss on Saturday.  It had to feel good for Mason, a former D-coordinator, to have his defense stop Western Kentucky to win in OT.
Tennessee Finally Beat Florida
It wasn't looking good for Butch Jones at halftime Saturday.  His Vols trailed the rival Gators 21-3.  It looked like yet another Tennessee loss to Florida.  However, the Vols stormed back to win and once again become the favorites in the SEC East.  You've got to think the momentum from this win will last the Vols until they hit Atlanta at least.
Quick Hits from Week 4
-Friday night, Utah and USC played an outstanding football game.  Back and forth with the Utes getting a late drive where they kept going on fourth down to score the winning TD.
-Ole Miss got a big lead and extended it as they destroyed Georgia 45-14.
-Florida State showed they're a good team by recovering from last week's blowout to Louisville with a big win over a good South Florida team.
-Wisconsin looked great dominating Michigan State 30-6 on the road.
-Is Brian Kelly on the hot seat now at Notre Dame?  3 losses already this season and his comment that all 22 positions are open isn't inspiring confidence for the rest of the season.
-Texas A&M's defense is much improved this year and they're contenders…nationally.
-UCLA fans have to be frustrated.  Things were looking good against Stanford and then a fourth quarter collapse.
-Look out for Wake Forest.  They snuck up on Indiana in Bloomington today and are 4-0.
-Scott Frost is getting Central Florida turned around already.
-James Franklin isn't getting it done at Penn State.  His seat is warming up by the week.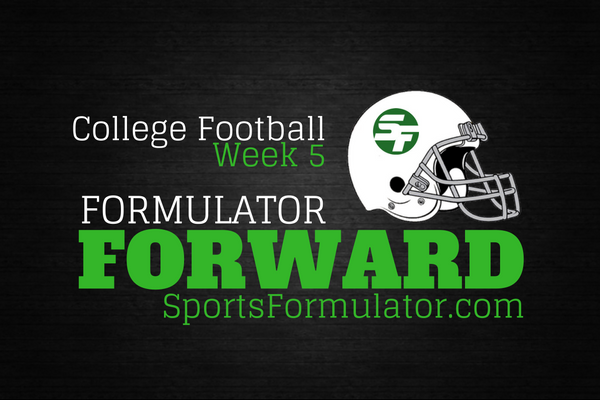 Looking Forward to Week 5
College Football Week 5 has big conference match-ups across the country from Miami at Georgia Tech to Stanford at Washington.
We're getting to the point in the season where we find out who the conference contenders are and this week will definitely help sort several of those out.
I really like these match-ups in week 5.  They will have a major impact on the playoff picture.  Losers this week will have a tough time rebounding to make the College Football Playoff.
Here are my predicted point spreads for week 5:
Stanford at Washington (-3.5) on  Friday Night – This really could be a great game.  The Huskies are the best team nobody's talking about.  At home on a Friday night is going to have the stadium rocking.
Louisville at Clemson (Pick 'Em) – The over/under on this game needs to be set at 99.  I'd have trouble going under any other number.  These two teams are loaded with playmakers.
Wisconsin at Michigan (-7) – The Badgers made a statement today with a 30-6 win at Michigan State.
Tennessee at Georgia (Pick 'Em) – Do the Vols suffer a hangover from the big win over the Gators?  That's the concern going into this game.  Georgia looks to rebound from being destroyed by Ole Miss.  If not for a national tv loss, I'd think Georgia would be a FG favorite in this game.
Oklahoma (-4) at TCU – The Sooners are in a must win situation.  TCU knows they'll get the Sooners best shot on Saturday and must be prepared.  This one turns into a shootout.
Top 3 SportsFormulator College Football Player of the Year Candidates:
3 – Christian McCaffrey (RB – Stanford) – Good game at UCLA and more importantly won the game.  As long as the Cardinal remain in the playoff picture, McCaffrey gets big games to showcase his skills.
2 – JT Barrett (QB – Ohio State) – The Buckeyes were off this week so Barrett didn't have a chance to impress further.
1 – Lamar Jackson (QB – Louisville) – not even halfway through the season, he has multiple seven touchdown games.
Check back weekly for our look ahead at the upcoming week of college football, power rankings and predictions here at SportsFormulator.com.