It's another season starting with can anyone beat the Patriots for the AFC East title?   With Brady sitting out the first four games due to his 2014 Deflategate scandal, this is the chance for the rest of the AFC East to make their move.  Brady will miss two division games against Buffalo and Miami.
The good news for the AFC East is they'll get two playoff teams this season.
Buffalo Bills
Rex Ryan brought in his brother Rob to help the defense.  Mario Williams is gone and Shaq Lawson is in on that side of the ball.  Will that be an improvement in the pass rush?
Tyrod Taylor tries to pickup where he left off last season.  He's 8-6 as a starter and has provided a steady hand which the Bills have lacked for years at QB.
The 16 year playoff drought ends this year for the Bills.
Miami Dolphins
Adam Gase is the new head man in Miami.  He'll look to jumpstart Ryan Tannehill and the offense.  Averaging less than 20 a game last year, Gase really only has room to improve.  Lamar Miller is gone but Arian Foster has arrived in Miami hoping to revive his career.
Mario Williams comes over from AFC East rival Buffalo.  He joins Ndamukong Suh on the D-line in trying to wreck havoc in opposing backfields.  Kiko Alonso and Byron Maxwell also join what should be an improved defense.
New England Patriots
It's Jimmy Garoppolo's time to shine.  He'll be in charge of the offense for the first four games as Tom Brady sits out for Deflategate.  Bill Belichick is a great coach and will have this team ready for it's Brady-less stretch to open the season.
Chris Long  joins the defense which lost Chandler Jones.  The defense will be counted on to keep the team early and keep the pressure off the offense at the start of the year.
The Patriots are still gonna win double digits game and should have a super motivated Tom Brady when he returns.
New York Jets
Will the Jets get Ryan Fitzpatrick signed before the start of the season?  He's sitting at home as training camp starts with  Geno Smith scheduled to regain his starting spot.
For a 10 win team, changing the starting quarterback is a big risk.  We see the change as a net negative for the Jets and will keep them from being playoff contenders in 2016.
Sign up now to reserve your spot in our NFL week 1 Pro Football Pick 'Em!  Get your chance to win bragging rights plus cash and prizes to start the 2016 NFL season!
[contact-form-7 id="22157″ title="2016 SportsFormulator Pro Football Pick 'Em Contest"]
2016 AFC East Predictions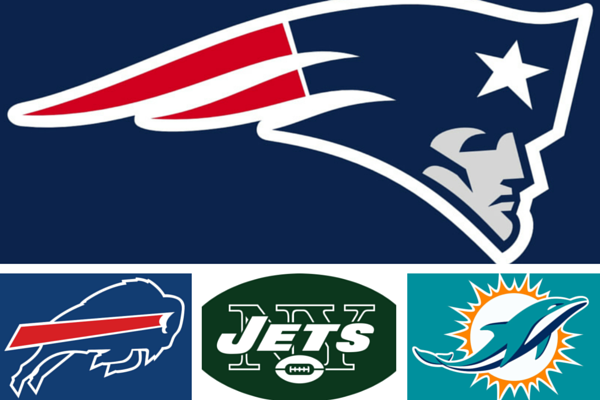 AFC EAST
TEAM
WINS
LOSSES
POWER
New England Patriots
11
5
14
Buffalo Bills
9
7
12
New York Jets
8
8
9
Miami Dolphins
8
8
29
Our 2016 Fantasy Football Rankings are out!  Get ready for your Fantasy Draft so you can dominate this fantasy football season.