The AFC West has the reigning champs, the Denver Broncos, who face a major question heading to 2016.  Who will start at QB?  Kansas City was the AFC West runner-up last year but won a playoff game.  The Raiders and Chargers should be improved as well.  This will be a competitive division in 2016.
Denver Broncos
You won't often find the defending Super Bowl Champs replacing their top two quarterbacks.  Peyton Manning retired and Brock Osweiler left for Houston.  They brought in Mark Sanchez and drafted Paxton Lynch.
The defense resigned Von Miller and should again be one of the league's best units.  They'll be asked to keep the team in a lot of games as the offense could have trouble scoring this year.
It's hard to see the Broncos making the playoffs with an improved division and difficult schedule.
Kansas City Chiefs
The Chiefs ended their playoff win drought last season with a dominating 30-0 win in Houston.  They lost offensive coordinator Doug Pederson who return to Philadelphia to become the head coach.
The Chiefs won ten straight last season.  There are questions heading to 2016.  Will Justin Houston return from a knee injury?  Will Eric Berry be signed before the start of the season?
The offensive line came together during the win streak and was upgraded with Mitchell Swartz.  With Jamal Charles returning from injury, the offense should be better than 2015.  The Chiefs are again a playoff team.
Oakland Raiders
The Raiders have had a great offseason adding several players expected to make an immediate impact.  Can Jack Del Rio get all these guys on the same page week 1?
Reggie Nelson, Sean Smith and Bruce Irvin are added to a defense that should be much better.
If Derek Carr continues to improve the Raiders will be very good.  There game week 1 in New Orleans will tell us a lot about this team.  The Raiders will be better but the record may not show it.
San Diego Chargers
A 4-12 2015 has the Chargers ready to show they're better than that in 2016.  For Mike McCoy, they have to get better or he's out as head coach.
Joey Bosa was their top draft pick and is expected to improve the pass rush right away.  Eric Weddle left in free agency so the secondary has a major hole to fill in 2016.
The Chargers will be better this season than last but they're not ready to contend.
Sign up now to reserve your spot in our NFL week 1 Pro Football Pick 'Em!  Get your chance to win bragging rights plus cash and prizes to start the 2016 NFL season!
[contact-form-7 id="22157″ title="2016 SportsFormulator Pro Football Pick 'Em Contest"]
2016 AFC West Predictions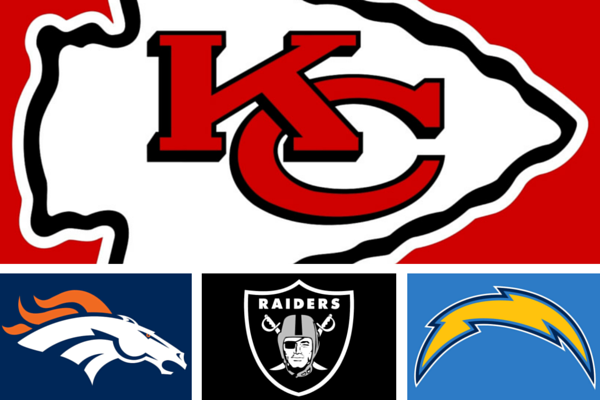 AFC WEST
TEAM
WINS
LOSSES
POWER
Kansas City Chiefs
10
6
5
Denver Broncos
8
8
10
Oakland Raiders
7
9
19
San Diego Chargers
6
10
28
Our 2016 Fantasy Football Rankings are out!  Get ready for your Fantasy Draft so you can dominate this fantasy football season.