We're in October and it's time to start looking ahead to the College Football Playoff.  We predict the four teams the committee will select and rank them.  With the two college football playoff semi-final match-ups set, we predict how the games will go and who will make the College Football Playoff Championship.
In picking our college football final four, we won't be picking two teams from the same conference.  The chances of a non-conference champion making the college football playoff are almost 0.  The only way that could happen is if two of the Power 5 conference champions have 3 losses and the non-conference champion lost their only game of the season in their conference championship game.
Get College Football Predictions by email from SportsFormulator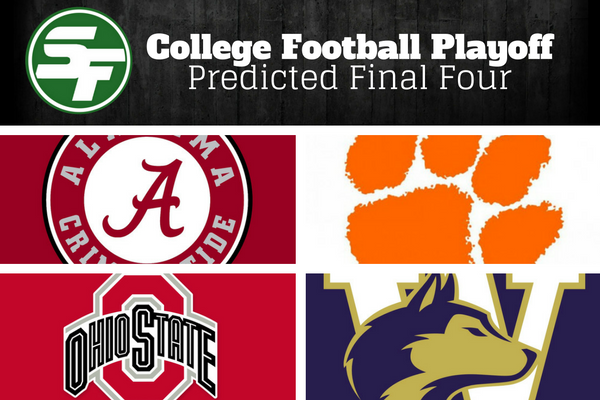 Ranking the College Football Playoff Final Four
In ranking the teams at this point in the season, it comes down to strength of victories.  The more impressive wins, the higher you will rank.
4 – Washington Huskies (Pac-12) – The Huskies let the country know they're contenders with a nationally televised destruction of Stanford 44-6 and winning at Oregon 70-21.  The rest of the schedule is weak.  They're the favorites to win the Pac-12 but will need a team from the South to show up for the Pac-12 Championship with a good record.
3 – Ohio State Buckeyes (Big Ten) – The Buckeyes thought the Oklahoma game would give them great strength of schedule but the Sooners' struggles this season dampen that win.  Their other wins have been dominant performances over lesser teams.  The schedule gets tougher so the Buckeyes will have a chance to move up.  The 58-0 over Rutgers puts them ahead of Washington who beat Rutgers 48-13.
2 – Clemson Tigers (ACC) – The Louisville win looks good right now and should give them a slight edge over Ohio State.  The committee will reward them for opening at Auburn…and winning.  Clemson got a 56-10 road win on Friday night during a short week.
1 – Alabama Crimson Tide (SEC) – The Tide's destruction of USC 52-6 and win at Ole Miss make them the top seed in the playoff at this point.  If they win the next three weeks, they'll have the resume that the top seed is a lock for them unless they get upset in a game they should be heavily favored in.
College Football Playoff Semi-Final Match-up Predictions
Alabama vs. Washington
| | | |
| --- | --- | --- |
| TEAM | WIN % | SCORE |
| Washington | 45% | 30 |
| Alabama | 55% | 33 |
Clemson vs. Ohio State
| | | |
| --- | --- | --- |
| TEAM | WIN % | SCORE |
| Clemson | 28% | 20 |
| Ohio State | 72% | 35 |
College Football Playoff Champion Match-up Prediction
It's another Urban Meyer vs. Nick Saban match-up…this time for a national championship.  The Buckeyes would win if the College Football Playoff happened today.
| | | |
| --- | --- | --- |
| TEAM | WIN % | SCORE |
| Ohio State | 54% | 31 |
| Alabama | 46% | 28 |
Get our College Football Playoff predictions weekly here at SportsFormulator.com.