by Matt Fischer
It's a football Friday!  I'd like to thank you for visiting SportsFormulator.com.  Things are going well and we appreciate your feedback and that you're checking out our new features this football season.
Our Pick 'Em contests are going well with record numbers of entries every week.  If you haven't entered yet, pick this weekend's college football and NFL for chances to win prizes!
Our Survivor Pool Picks feature is getting a tremendous response.  We're 2-0 on the season so far and look to keep it going this weekend.
PICKS
We've got our full NFL and College Football cards up in the Pick Shop.  7 College Football picks and 3 NFL.  You can buy by league or get them all together.  The picks are guaranteed to be profitable or you get a refund!
We've also got $5 Friday picks in both the NFL and college football.  These individual picks are just available today so take advantage now.
Free Pick – Oklahoma State +9.5 at Baylor
I want your input on SportsFormulator and would appreciate if you could answer 5 quick questions here.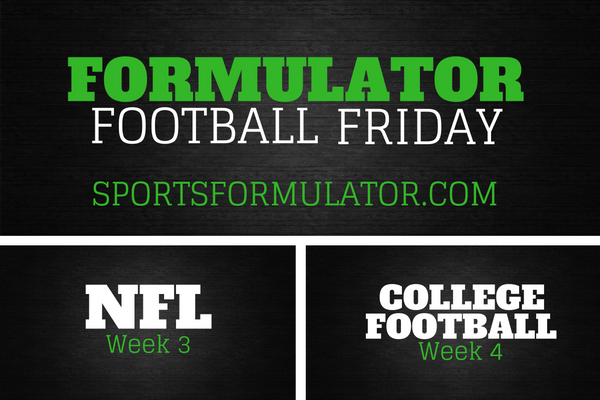 NFL Week 3
Bill Belichick is the greatest NFL coach of all time.  Cheating aside, his ability to continually win regardless of the 11 players that line up on a given play is remarkable.   Using his third string QB, Belichick guided the Pats to a win over a playoff team last night.
Another profitable weekend with our NFL picks!  We went 2 for 3 cashing tickets again keeping us at 67% ATS on the season.
Broncos at Bengals is the big game in the NFL this weekend.  The Bengals lost in Denver on Monday night last season that ended up giving the Broncos home field throughout the NFL Playoffs.  The Bengals will have Andy Dalton for this one though and playing at home will want to bounce back from a loss in week 2.
Can the Seahawks and Rams score this week?  They've both struggled to put points up this season.  Last week they combined for 12 points in the game with the Rams winning 9-3.
The two games I'm most interested in this weekend are the Raiders at Titans and Ravens at Jaguars.  These are teams that have been up and down this season so can they show their potential and win this weekend?
Get week 3 NFL predictions and power rankings.
Consensus Picks – NFL Week 3 Game Winners
1 – Giants 95% against Redskins
2 – Bucs 95% against Rams
3 – Dolphins 95% against Browns
4 – Packers 91% against Lions
5 – Cowboys 91% against Bears
6 – Panthers 86% against Vikings
7 – Saints 86% against Falcons
8 – Steelers 82% at Eagles
9 – Cardinals 77% at Bills
10 – Seahawks 77% against 49ers
11 – Chiefs 68% against Jets
12 – Colts 68% against
13 – Titans 59% against Raiders
14 – Bengals 59% against Broncos
15 – Jaguars 50% against Ravens
If you haven't made your picks yet, make them now.
College Football Week 4
Some good conference match-ups in college football this weekend.  Tonight, USC visits Utah.  These have proved to be tricky games in the past for road teams.
Michigan State comes off of an impressive road win at Notre Dame to host Wisconsin.  The Badgers have flown under the radar since a big win over LSU to start the year.  Are they ready to take a big game on the road?
I'm most interested in the Arkansas at Texas A&M and Oklahoma State at Baylor this Saturday.
A&M has looked good this season and Bret Bielema's Razorbacks are always a tough game.  This is a game that's going to go to the wire.
Baylor gets their first test of the season as the Cowboys of OSU come to town.  For Jim Grobe, it's a big step up in competition for his team.  Okie State rebounded last week from being robbed of a win against Central Michigan.  The Cowboys are going to keep this game close.
Get our week 4 college football predictions and power rankings.  Check early Sunday morning for my new Formulator Forward column, where I review the previous week of college football and predict the next week's point spreads for big games.
Consensus Picks – College Football Week 4 Game Winners
1 – Western Michigan 96% against Georgia Southern
2 – Stanford 92% at UCLA
3 – Nebraska 92% at Northwestern
4 – Florida State 84% at South Florida
5 – Ole Miss 84% against Georgia
6 – Michigan State 80% against Wisconsin
7 – LSU 80% at Auburn
8 – Tennessee 72% against Florida
9 – South Carolina 72% at Kentucky
10 – California 64% at Arizona State
11 – Texas A&M 64% against Arkansas
12 – West Virginia 60% against BYU
13 – Middle Tennessee 56% against Louisiana Tech
14 – Baylor 52% against Oklahoma State
15 – North Carolina 52% against Pitt
If you haven't made your picks yet, make them now.
[contact-form-7 id="23878″ title="Formulator Football Friday"]
Enjoy the games this weekend!