Requests have been flooding in for help with NFL survivor pools.  I'm going to give out my strategy based upon our data driven predictions and power rankings.
Survivor Pool Pick Strategy:
We start with our list of 16 predicted winners:
Bengals (at Jets)
Bills (at Ravens)
Cardinals (vs. Patriots)
Chiefs (vs. Chargers)
Colts (vs. Lions)
Cowboys (vs. Giants)
Eagles (vs. Browns)
Falcons (vs. Bucs)
Packers (at Jaguars)
Panthers (at Broncos)
Rams (at 49ers)
Saints (vs. Raiders)
Seahawks (vs. Dolphins)
Steelers (at Redskins)
Texans (vs. Bears)
Vikings (at Titans)
Now there are two steps to easily cut down your potential pick for your NFL survivor pool.
Eliminate Toss-Up Winners
First we eliminate toss-up games.  That means we're cutting the 1 point winners out of the list.
So the Cowboys, Rams, Saints, Steelers and Vikings are out.  We're down to 11 potential picks.
Eliminate Road Winners
Next we eliminate road teams.  I don't like taking road teams to win in the NFL at all.  Just too risky when you need a win, go with a home team.
Eliminating predicted road winners, we cross out the Bengals, Bills, Packers and Panthers.  Leaving us with seven teams left to make our picks.
Eliminate Low Ranking Winners
Next, I look for team that aren't in our 20 of the power rankings.  The Eagles come at 21 so they're out.  We're down to six potential picks.
Eliminate Winners Playing Good Teams
Then, I look for our predicted winners that are playing teams ranked in the top 16 and take them out of consideration.  This eliminates the Cardinals who play the 14th ranked Patriots.
Now we're down to five potential picks for our NFL survivor pool.
Final 5 Survivor Pool Pick Candidates
We're down to five teams to consider as our NFL survivor pool pick, the Colts, Falcons, Texans, Chiefs and Seahawks.
5.  Falcons (vs. Bucs) – The Falcons are a shaky pick as they come in at 16 in our power rankings and play a familiar division foe.  They're the lowest ranked of our final five and are tied for smallest predicted win margin.
4.  Colts (vs. Lions) – The Colts are playing the highest ranked opponent in the Lions, #20 in our power rankings and tied for the smallest margin of victory at 5 points.
3.  Chiefs (vs. Chargers) – The Chiefs are projected to win by 10 but play a division opponent so familiarity could make this game close.
2.  Seahawks (vs. Dolphins) – The Seahawks are a great home team and play the 29th ranked Dolphins.  We have them winning by 11 so this is a very safe pick
1. Texans (vs. Bears) – I like the Texans in this one because of their ability to rush the passer and create havoc for Jay Cutler who hasn't looked good lately.  I think the smart pick is take the Texans as your survivor pool pick for week 1 and save some of the stronger teams for later in the season.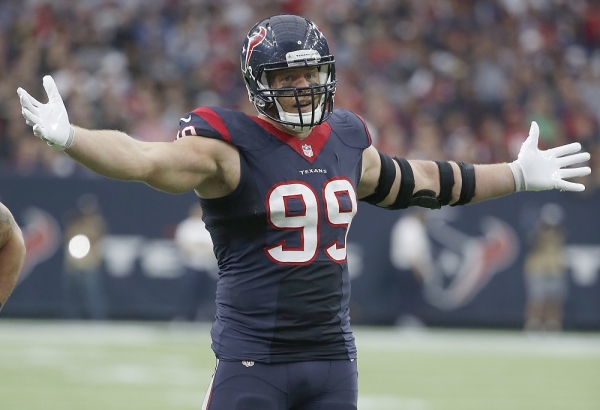 Get our data driven NFL predictions all season long.