We want you to survive your eliminator pool this NFL season so we're giving our free survivor pool strategy all season. Our picks are based upon our data driven NFL predictions and power rankings.
The Steelers were our pick last week and cruised to a win 31-13 against the Jets.  We're now 4-1 "surviving" this NFL season.
2016 Survivor Pools Results
Week 1 – Texans (Win)
Week 2 – Panthers (Win)
Week 3 – Packers (Win)
Week 4 – Chargers (Loss)
Week 5 – Steelers (Win)
Get NFL Survivor Pool Picks delivered by email each week of the season
Survivor Pool Pick Strategy:
We start with our list of 15 predicted winners:
Broncos (at Chargers)
Patriots (against Bengals)
Giants (against Ravens)
Saints (against Panthers)
Steelers (at Dolphins)
Bears (against Jaguars)
Bills (against 49ers)
Lions (against Rams)
Titans (against Browns)
Eagles (at Redskins)
Raiders (against Chiefs)
Seahawks (against Falcons)
Packers (against Cowboys)
Texans (against Colts)
Cardinals (against Jets)
Now there are four steps to easily cut down your potential pick for your NFL survivor pool.
Eliminate Toss-Up Winners
First we eliminate toss-up games.  That means we're cutting the 1 point winners out of the list.  The Broncos, Giants, Bears, Packers and Texans are out of consideration for this week.
Eliminate Road Winners
Next we eliminate road teams.  I don't like taking road teams to win in the NFL at all.  Just too risky when you need a win, go with a home team.
Eliminating predicted road winners, the Steelers and Eagles are out.  We have eight teams left to consider.
Eliminate Low Ranking Winners
Next, I look for team that aren't in our 20 of the power rankings.  The Saints are ranked 25th this week.  They're out.
Eliminate Winners Playing Good Teams
Then, I look for our predicted winners that are playing teams ranked in the top 16 and take them out of consideration.  This eliminates the Seahawks (against 7th ranked Falcons) this week.
Eliminate the Teams We've Already Picked in 2016
None of the teams we've used this season are still eligible in our survivor pool advice.  We have six candidates to consider.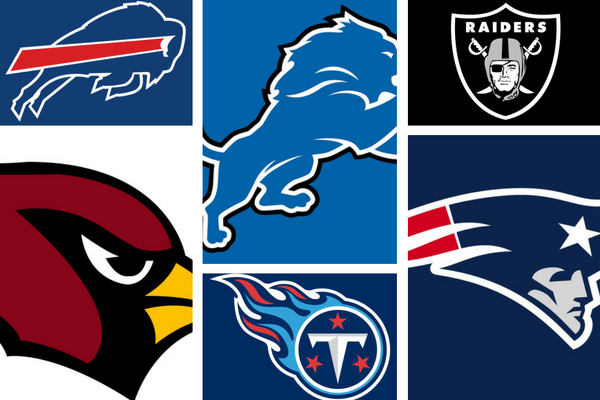 Final  Survivor Pool Pick Candidates
6 – Lions (against Rams) – Detroit gave Philly their first loss of the season last weekend.  Are they good though?  They're not worth trusting with a survivor pool pick right now.
5 – Raiders (against Chiefs) – This is a divisional rivalry game so it's hard to make your pick from a game like this.  These two play good games and this should be decided late in the 4th quarter.
4 – Titans (against Brown) – It's easy to go against the Browns on the road.  I think Cleveland is going to be very competitive in this game though.  They took Miami to OT on the road and this could be a similar game that gets decided late.
3 – Cardinals (against Jets) – This is a Monday night game so both teams should show up.  It's hard to see the Jets winning this on the road with their turnover problems.  The Cardinals haven't proven to be too trust worthy this season either.
2 – Patriots (against Bengals) – This would be the pick but the Bengals should be desperate this week which makes this pick #2.  I don't think Tom Brady will lose his home opener but this game could be closer than expected.
1 – Bills (against 49ers) – The 49ers are a mess right now and are starting Colin Kaepernick this week.  Can he right the ship?  The Niners are more than one player away from being a good team.  The Bills are playing well and should keep it going at home on Sunday.  Take the Bills to survive NFL week 6.
Get more NFL winning information for Week 6:
Play our Free NFL Pick 'Em contests picking games Against the Spread or game winners.