We want you to survive your eliminator pool this NFL season so we're giving our free survivor pool strategy all season. Our picks are based upon our data driven week 7 NFL predictions and power rankings.
We debut our own Survivor Contest this week.  Try out our weekly NFL Survivor Contest.
2016 Survivor Pools Results
Week 1 – Texans (Win)
Week 2 – Panthers (Win)
Week 3 – Packers (Win)
Week 4 – Chargers (Loss)
Week 5 – Steelers (Win)
Week 6 – Bills (Win)
Survivor Pool Pick Strategy:
We start with our list of 15 predicted winners:
Packers (vs. Bears)
Giants (vs. Rams in London)
Eagles (vs. Vikings)
Chiefs (vs. Saints)
Lions (vs. Redskins)
Bengals (vs. Browns)
Bills (at Dolphins)
Jaguars (vs. Raiders)
Titans (vs. Colts)
Ravens (at Jets)
Falcons (vs. Chargers)
49ers (vs. Bucs)
Patriots (at Steelers)
Cardinals (vs. Seahawks)
Broncos (vs. Texans)
Now there are four steps to easily cut down your potential pick for your NFL survivor pool.
Eliminate Toss-Up Winners
First we eliminate toss-up games.  That means we're cutting the 1 point winners out of the list.  The Giants (vs. Rams) and Jaguars (vs. Raiders) are predicted one point games so they're out.  13 teams left to consider for NFL week 7.
Eliminate Road Winners
Next we eliminate road teams.  I don't like taking road teams to win in the NFL at all.  Just too risky when you need a win, go with a home team.
Eliminating predicted road winners, Bills (at Dolphins), Ravens (at Jets) and Patriots (at Steelers).  We're down to 10 teams to consider as survivor picks for NFL week 7.
Eliminate Low Ranking Winners
Next, I look for team that aren't in our 20 of the power rankings.  Bengals (28th) and 49ers (30th) are no longer being considered.
Eliminate Winners Playing Good Teams
Then, I look for our predicted winners that are playing teams ranked in the top 16 and take them out of consideration.  This eliminates the    Eagles (vs. Vikings), Cardinals (vs. Seahawks), Broncos (vs. Texans) and Lions (vs. Redskins).
Eliminate the Teams We've Already Picked in 2016
All of our previous picks except the Packers have been eliminated.  With the Packers out of consideration, we're left with three teams, Chiefs, Titans and Falcons.
Final  Survivor Pool Pick Candidates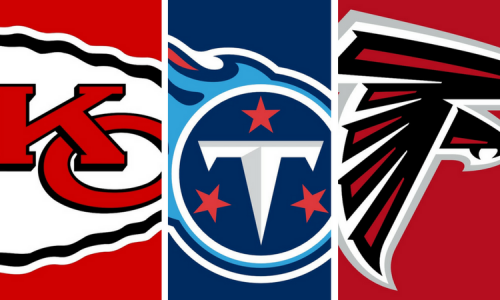 3 – Titans – The Titans have been a good home team but are clearly the worst option of these three.  This is a divisional game so it makes a little more risky.
2 – Falcons – The risk with this game is a let down for the Falcons.  They're coming off back-to-back road games in Denver and Seattle.  They're coming home against a Chargers team that could put some points up.  The Falcons are a fairly safe pick but not the best pick this week.
1 – Chiefs – Kansas City is coming off an impressive win in Oakland.  They return home against a Saints team that tends to struggle on the road. We've got the Chiefs 5 point predicted winners on Sunday compared to the Falcons being predicted 4 point winners.  Take the Chiefs to survive NFL week 7.
Get more NFL winning information for Week 8:
Play our Free NFL Pick 'Em contests picking games Against the Spread or game winners.