by Matt Fischer
We've reached the final week of the 2016 college football season and the conference title match-ups have been set.  We're just a week away from knowing who makes the college football version of the Final Four.
Based upon our week 14 college football predictions, we see three teams winning their conference championships.  Alabama (SEC), Clemson (ACC) and Washington (Pac-12) are locked in as playoff teams.  The fourth spot is the one left to be decided.
The fourth team has to come from the Big Ten.  With the Ohio State victory at Oklahoma, the Big Ten should get this final spot in the College Football Playoff.
The Big Ten has several contenders for this final spot but it should come down to the Big Ten Championship between Wisconsin and Penn State.  While Ohio State and Michigan have been impressive this season, their inability to even qualify for the Big Ten Championship game should keep them out of the playoff.
How ridiculous is it for a team to qualify for the playoff that can't even win it's own division in a conference?
The Big Ten has beaten one another up.  Penn State holds a win over Ohio State, but Michigan beat Penn State.  Ohio State beat Michigan and Wisconsin.  Michigan and Ohio State both beat Wisconsin but Wisconsin could own a win over Penn State in the Big Ten Championship.
That makes the Big Ten Championship of utmost importance to the committee.  The winner of Penn State vs. Wisconsin should get an invitation to the College Football Playoff.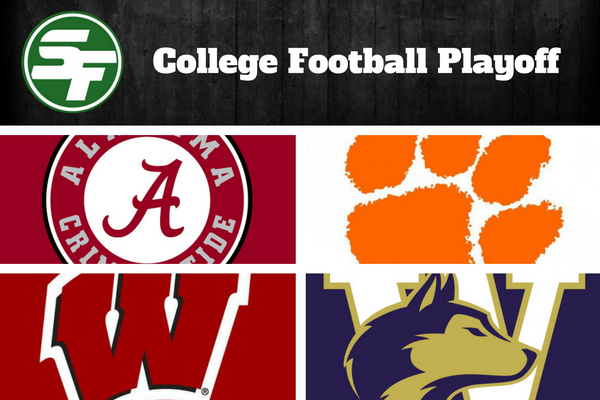 Based upon our predictions for Saturday's college football conference championships, here's our seeding of the four college football playoff teams:
1 – Alabama Crimson Tide
2 – Clemson Tigers
3 – Washington Huskies
4 – Wisconsin Badgers
Get College Football Predictions by email from SportsFormulator
[contact-form-7 id="23878″ title="Formulator Football Friday"]