by Matt Fischer
Happy Anniversary
Today marks 4 years of sports predictions by SportsFormulator!  It's hard to believe SportsFormulator first published data driven predictions on NBA Opening Night, October 30, 2012.  There were 7 visitors to SportsFormulator.com that night as we predicted 3 NBA games.  Today, I expect thousands to visit the site.
You can read my post about the launch to see what was in my mind that day.  I launched while still working full-time and in the MBA program at Arizona State.  That was crazy to do but I knew the time was now or never so the journey began.  All of that didn't last much longer.  I went to Formulator full-time and eventually left the MBA program.
THANK YOU!
A huge thank you to all of you who visit the site on a regular basis, buy picks, give feedback and spread the word about SportsFormulator.  I truly appreciate it.  All picks in the Pick Shop are $4 today as a thank you.
We're giving away $40 credits to 40 entries who've been playing our contests this weekend.  Make your picks in our NFL Survivor, it's your last chance to enter!
Launching a business by yourself is incredibly difficult.  I have had help from so many along the way that have taught me different things.  I knew I had the passion, determination and will to make it successful.
I've never had a bank loan or investment.  It's something I've done on my own.  Made it much more stressful but it's rewarding at the same time.
I've gone from producing content for 7 people on opening night to hundreds of thousands 4 years later.  Daily traffic comes from many countries around the globe.
College Football Revolution – 3 Part Series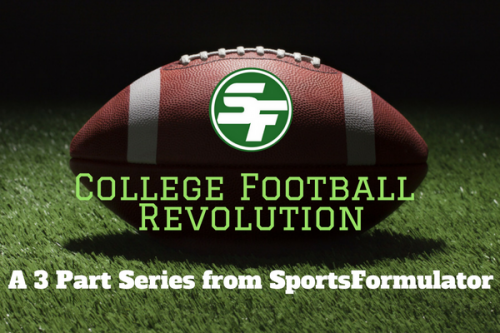 College Football is great but could be much better.  I have developed a plan to realign conferences, improve scheduling, make bowl season more intriguing and create an even better final four for the college football playoff.
Read all 3 parts of the SportsFormulator College Football Revolution:
Part 1 – The Ultimate Realignment:  Death of the Power 5
Part 2 – Rescheduling
Part 3 – The New Playoff
The Future of SportsFormulator
I've been working on two big projects for SportsFormulator.  I was hoping one would be ready by today, unfortunately it isn't but should be soon.  It's out of my hand so I'm at the mercy of others.
I don't want to announce them yet but I think you'll love them.  They're something I've been developing for a long time and I think will take SportsFormulator to new heights.
Look for announcements on SportsFormulator.com later this year.
Thank you again for being part of SportsFormulator.  As always, if you've got a question or feedback for me, you can email me.